VIP Club
VIP Club Explanation/Overview
Earn up to a huge 30% rakeback with the VIP club at BoyleSports Poker, plus extra boosters!
Complete each step to earn another VIP payment there is no limit to how much you can earn!
Finish the first step of a new VIP level to earn extra cash with the special booster.
If you are looking for information regarding the current VIP system (ending 31st July 2017) click here.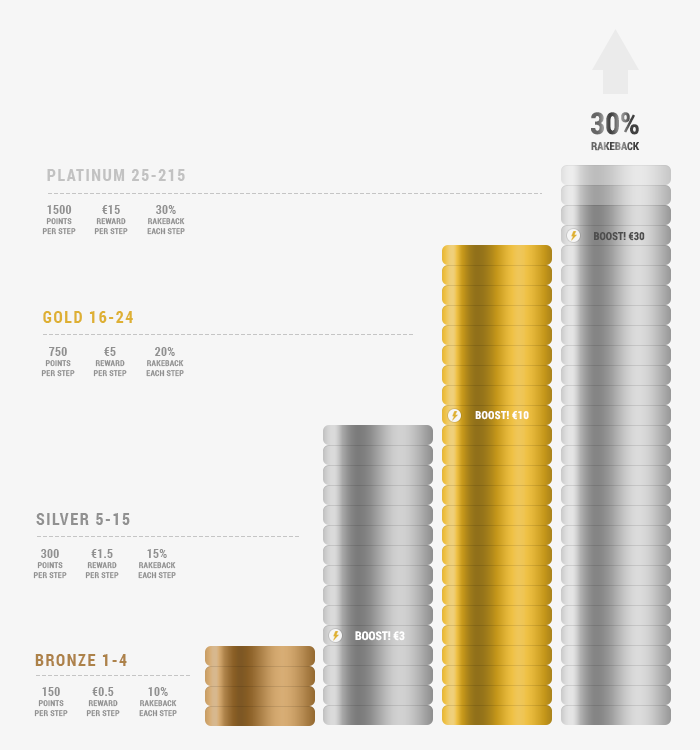 The details for each VIP level is as follows:
Level
Monthly Points Required
Level Rakeback
Platinum
10,650
30%
Gold
3,900
20%
Silver
600
15%
Bronze
0
10%
Earn 30 points per €1, 34 points per £1 and 26 points per $1 paid in rake/fee.
Monthly points required is to attain and maintain each VIP level.
You can keep track of your progress through the Missions tab.

Details:
How does the BoyleSports Poker VIP Club work?
It's very simple, as you play in cash games and contribute tournament fees status points will be added to your account. Once you earn enough points to complete each step cash is added instantly to your account then a new step starts.
Keep track of how many points are needed to complete each step through the poker client in missions and the VIP tab.
All new players start on the Bronze level and accumulate Points moving up the ranks. VIP levels are now automatic and you will not need to wait until the start of each month to achieve your new status.
If you achieve enough points to reach Silver, Gold or Platinum VIP level you will not need to start back from Bronze step 1, start from the level where you left off at the higher rakeback rate!
The New VIP club FAQ's
When does all of this start? - The new VIP club will start on 1st August 2017 all players will be moved onto the VIP levels they based on the points they obtained the previous month.
What about the monthly VIP payment for July This payment will be the last of its type, the payment will be calculated as normal (100% July points + 30% June points) with the additional 30% of July points added so you won't miss out..
Will I still earn points that can be exchanged for cash? - No the point value is all incorporated in the new VIP club, any points currently remaining in your account can be redeemed any time within the next 3 months and then will expire.
Why change the VIP Club offering? - We have changed the offering to make it much clearer and faster rewarding the most loyal of poker players.
Will I still accumulate points to cash out? - No the new VIP club has included this in our new rakeback offering.
What can I do with my existing points? - They can be cashed in until 1st November 2017.
Are the points per €1 still the same? - No, the points are now calculated as following €1 = 30 points, £1 = 34 points and $1 = 26 points. These are subject to change.
How will my payments be made? - Payments will be made automatically upon completion of each step in a similar way to our missions. Progress can also be tracked through the mission's tab and in a progress bar on the table.
Can I still earn points for stakes in BoyleSports Poker side games? - No, points are only earned from our poker offerings but keep an eye out for some great new promotions coming your way soon.
Will I need to start from again from Bronze step 1 each month? - No, if a player accumulates enough points to reach or maintain Silver VIP level that will start from step 5, Gold will start from step 16 and Platinum from step 25
Terms & Conditions
New VIP club will take place from 00:00 GMT on Tuesday 1st of August.
VIP club payments and VIP levels will only apply to players VIP level 1-4 (Bronze - Platinum).
Poker side games activity will no longer count towards earning points.
Personal information provided when opening an account must be complete and accurate in all respects.
BoyleSports Poker reserve the right to enter a new player at any VIP level they wish.
We further reserve the right to ask any customer to provide sufficient documentation for us to be satisfied, in our absolute discretion, as to the customer's identity prior to us crediting any bonus, or offer to their account.
By participating in this Promotion, you agree to be bound by these rules and to the decisions of BoyleSports Poker, whose decisions are final and binding in all respects.
All decisions by BoyleSports Poker are final.
BoyleSports Poker reserve the right to amend the terms and conditions at any time.